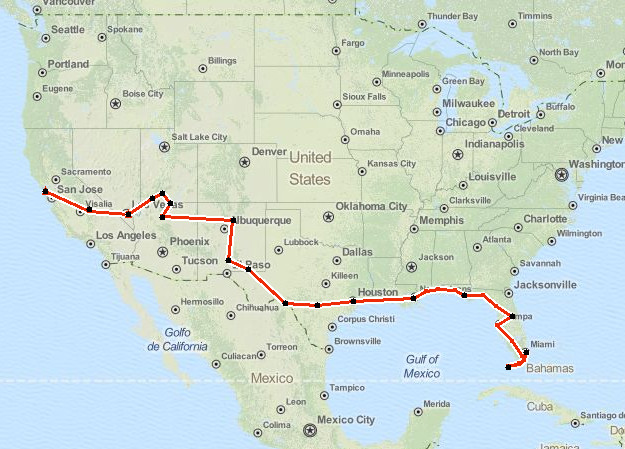 A friend of mine has done a four-week trip trough the US in spring '98. After I had a look at her photos and after I had listened to her stories for a while, I decided to try that trip myself in September '98. The trek started in San Fransisco and was planned to end in Miami. (Continue reading to learn why it didn't.)
The Tour was operated by a company called SUNTREK, that organizes Treks in small groups all over the US. There is a so called trek leader, that drives the van in which the groups travels. (Fully air conditioned and quite comfortable, by the way.)
Due to a one-and-a-half-hour delay of the Air France 747 Jumbo Jet I arrived with, I came just in time for the welcome party in the Vagabond Inn Hotel in downtown San Fransisco, California.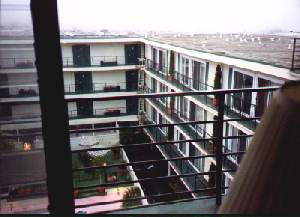 Then finally at Monday morning, the trek started and in the afternoon we reached Sequoia National Park. (The weather was brilliant now, which was quite nice after the fog that they have quite often in San Fransisco in the summer.)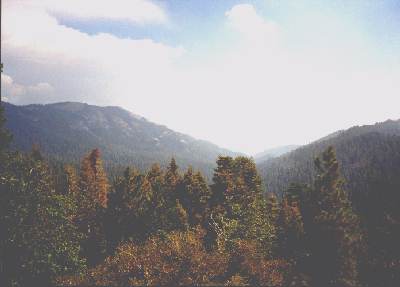 The Sequoia Mammoth Trees are so big, that I was not able to catch one of them on a single photo. (They can grow up to 310ft or 100 meters.) See for yourself how small a human being or a normal tree look compared to them.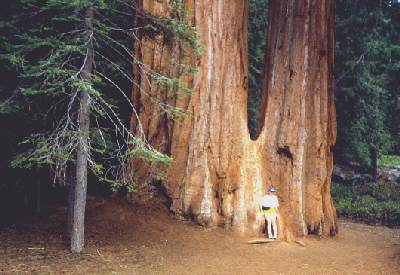 Unfortunately we had not much time to have a closer look at more of the mammoth trees. Our way led us right through the Mojave dessert, which is actually a site by its own.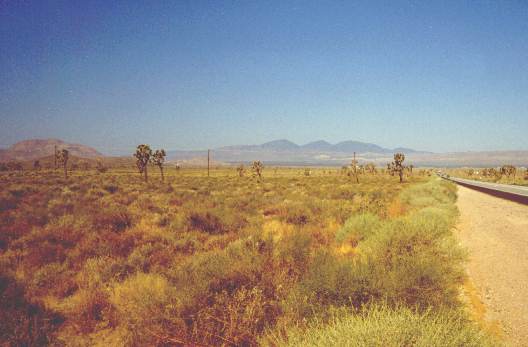 What lies right in the middle of the Mojave dessert is really worth driving for a few hours: Las Vegas.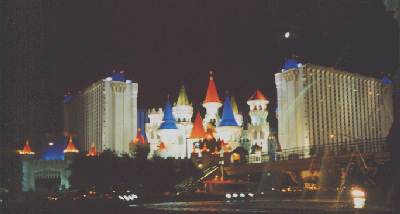 If you go to Vegas, forget about gambling in the casinos, that's just something for rich and bored pensioners. Try the "all you can eat dinner" at the Cesare's palace and enjoy all the things that can be seen for free, i.e. Sigfried and Roy's white tigers.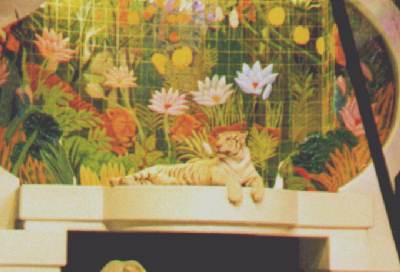 After Vegas we visited one of most beautiful places I have ever seen, Bryce Canyon.
And on we went through the dessert. Do you wonder why that fellow in front of us is pulling a boat through the middle of the dessert?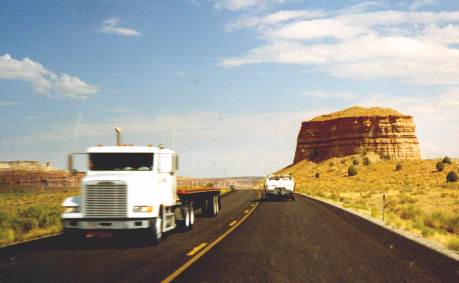 Well, it is because of this dam. Glen Canyon Dam near Page, AZ.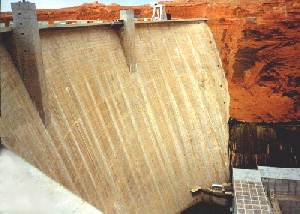 This dam created America's most popular water sports resort, Lake Powell.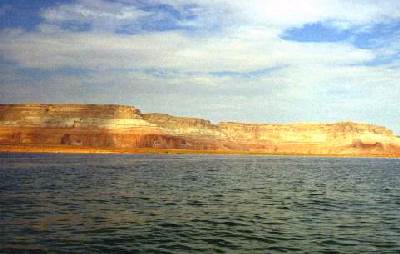 After having a good time on the lake we went on to Grand Canyon National Park. The Canyon was cut into the rocks by the Colorado River at a speed of 15cm per 1000 years.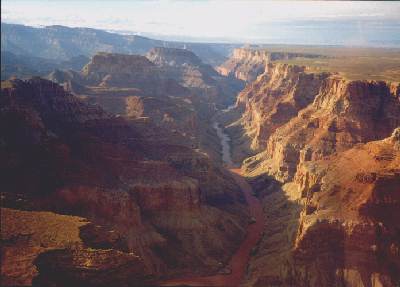 Well, I guess everyone that visits the Grand Canyons for the first time ends up taking to many photos. Let's start with two photos that I have taken from one of these helicopters.

Great view, isn't is?
I have also taken a number of photos while I was hiking down Grand Canyon. Believe it or not, but hiking is much more dangerous than helicopter flying. Look at that sign: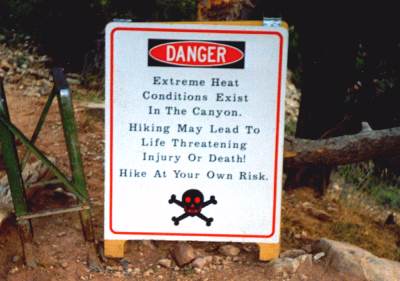 But fortunately it was not that hot at that day.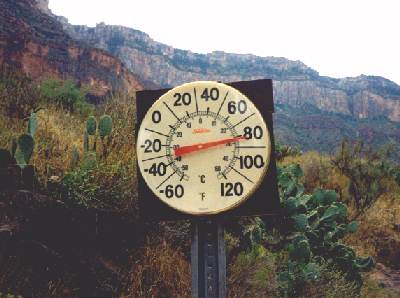 So I was able to take these photos.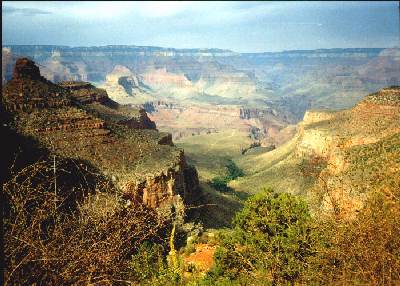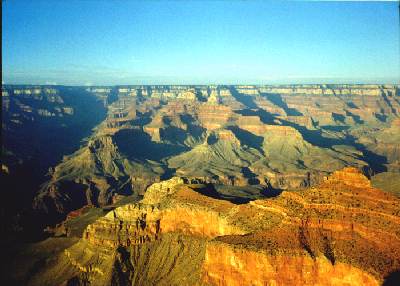 But Grand Canyon is not the only place in the west that offers pictures like the one shown above. Here is one great view over the Navajo Indian Reservation.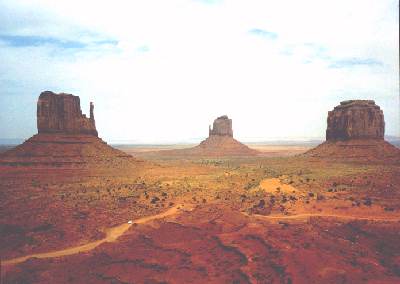 White Sands National Park is probably the place where you can find the finest and whitest sand (at least in that quantities).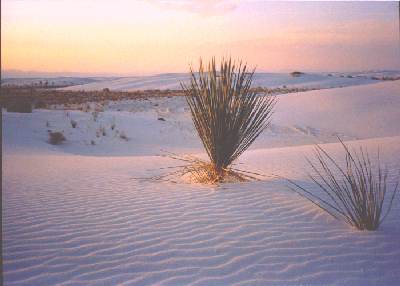 And they have really great sunsets.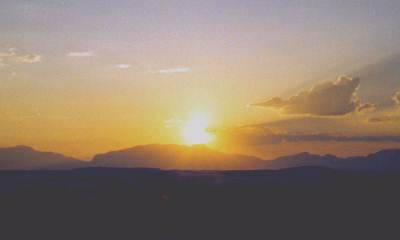 There are also a lot of beautiful man mad things in the US.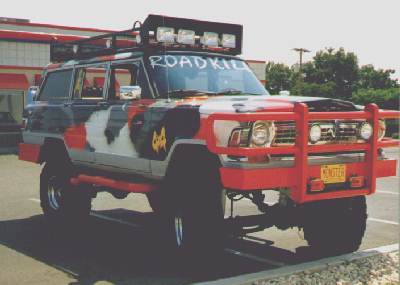 San Antonio is a city with a lot of history. They had that Alamo massacre and some other very important things. One of them is my 27th birthday that we were celebrating there. The so called river-walk with all its nice bars and restaurants is really worth a visit.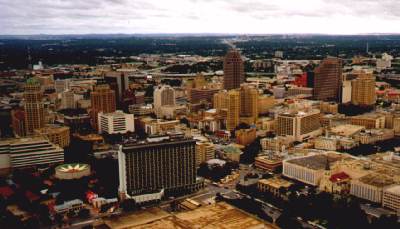 And they have countless ground squirrels. They look like drawn by Walt Disney, don't you think so?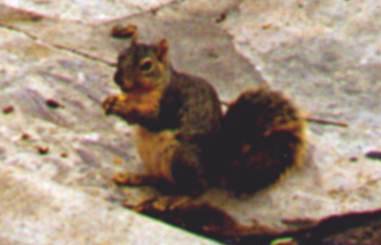 After visiting Houston Space Center…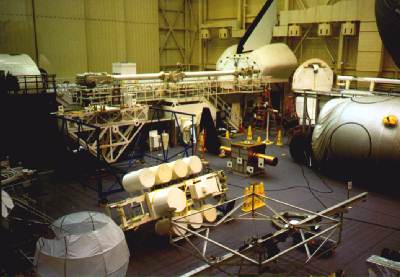 …we took the Interstate No. 10 to get to New Orleans, Louisiana. Unfortunately our Trek ended all of a sudden when our van overturned near Lake Charles and landed in the median that was full of mud because of the heavy rainfalls they have had for weeks in that area.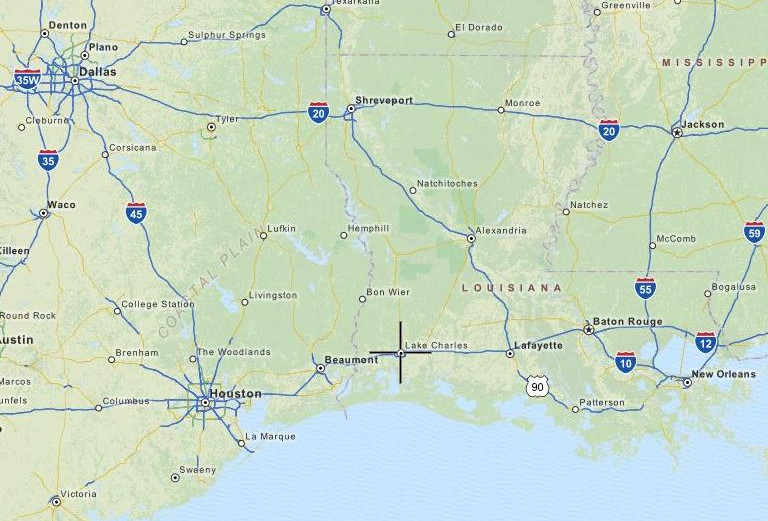 The crash left me with a broken collarbone (right) and a broken wrist (left). We were all brought to the next Hospital which was the West Calcasieu Cameron Hospital in Sulphur, Louisiana. After a first treatment we stayed for two nights in a Motel in Sulphur and than I flew back via Lake Charles – Houston – Miami – Paris – Nuernberg.
I would like to add that the people in Louisiana were extremely nice to us. Right after the accident, at the hospital and everywhere we went in Sulphur, everyone was so nice to us. It's a real pity I got there under these circumstances. (The temperatures are also very nice there in mid September.)